Before you take a look at our standard features, We at WELBILT would like to highlight just a few of our distinguishing traits that make a Welbilt home.
Andersen High-Performance Windows (Valued at $5,000 or more on the average home than other brands)
Two energy efficient vinyl windows in the basement
Full screens in all windows. (no half screens.)
Grills in all windows.
Engineered beam in the garage. The beam is designed to eliminate posts.
Super Seal Air Infiltration Insulation Home Package System with fire caulking and fire stopping.
The steel reinforcing 2-foot checkerboard pattern in garage concrete floor for added strength, as warrants.
Entire garage drywalled and finished.
Deco 20 Damp Proofing above grade.
Maintenance free porch posts and railing, as warrants.
2"x6" wall garage framing.
1/2 inch OSB with DiamondDeck CertainTeed High-Performance Synthetic roof decking Underlayment 30 year warranty
Interior trim around all windows with sills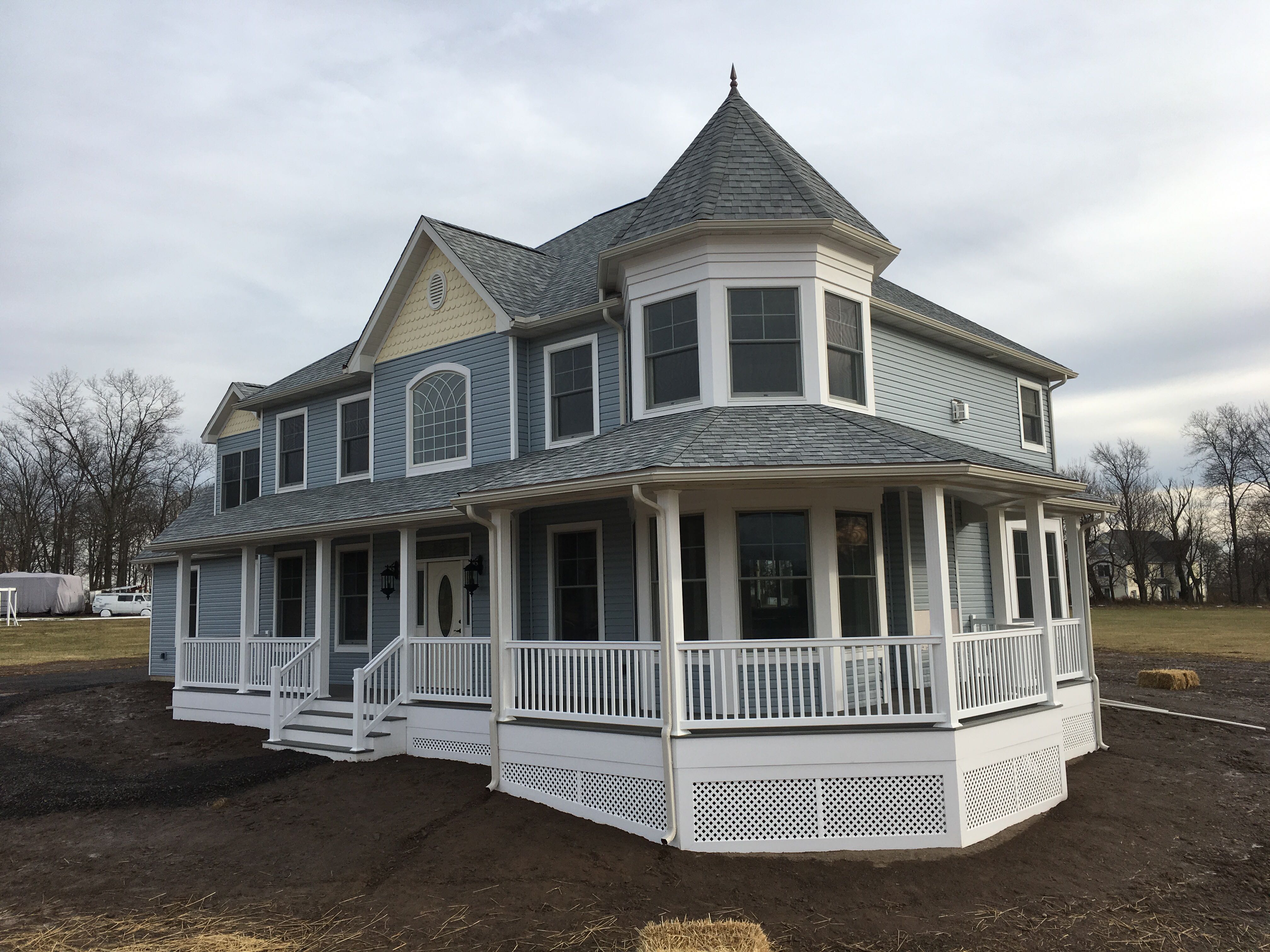 The above-mentioned items are approximately $11,300 to $13,000 in upgraded features on the average home, at NO ADDITIONAL CHARGE TO YOU! These are just a few of the many things that make a Welbilt Home.
Permitting Process:
Welbilt Homes is a full-service builder who will help you every step of the way from start to finish. Our Permit Coordinator will assist you with all permits, septic designs, and utility connection, etc. Our engineer and surveyor are fully accessible in the event that your municipality would require surveying, engineering or soil and erosion plans, etc. We will do our best to make the building process one of the most exciting times of your life.
We at Welbilt Homes let you choose your own options we do not choose for you. By including them in our standard features, we realize that each customer has different needs and wants. The materials we use in our standard options are NOT entry level builder grade features.
It is important for us to protect the integrity of your home and in order to provide you the quality workmanship that you expect, Welbilt Homes Inc. will provide our experienced excavator to provide all of your excavation needs from proper positioning and grade establishment of your new home, to all field inspections and the scheduling of all utility connections with your utility providers. Our excavator has a longstanding reputation with our company, not only with reasonable prices but with professionalism. Excavation costs will be given as an estimation on your written contract to take to your lending institution.
8" X 20" concrete footer
8" or 10" cement block, per plan
Concrete basement floor with stone base and vapor barrier
Anchor bolts
Perimeter foundation drain with sump pump tub
Passive system for radon – radon prep only
One clear coat of sealant applied to exterior foundation wall
Two vinyl basement windows with screens
No stucco or stone on exposed foundation
2" x 10" floor joists - 16" "on center"
2" x 6" or 2" x 8" ceiling joists, per plan
2"x 6" exterior stud walls - 16" "on center"
2" x 4" interior stud walls - 16" "on center"
House Wrap with taped window flashings
7/16" OSB Walls
1/2" OSB roof sheathing
3/4" OSB tongue & groove sub-flooring
All sub flooring is nailed and glued
Hurricane ties
Roof system stick 8' walls framed or trusses, per plan
Ridge vent
Synthetic underlayment
30 year self-sealing architectural shingles
Aluminum drip edgeFully flashed
Ice and water guard
A wide variety of colors in:
Vinyl siding in 4" Clapboard or 4 1/2" Dutch lap
Aluminum seamless 5" gutter and 3" downspout
Vinyl front porch railing, per plan
Raised paneled shutters - front of home only, per plan
Manufactured stone or stucco, per plan
Louvers and/or crossheads, per plan
Anderson 200 Series double hung windows w/grills between glass or w/o grills includes full screens
Vinyl slider with screen included, per plan
Therma Tru Traditions Steel S210 series exterior doors
Exterior and interior door lock sets.
Individual room zoned electric baseboard
30" Wall kitchen cabinets with standard molding
Formica top – 4" back splash (choice of colors)
Frigidaire electric range – black or white
Frigidaire dishwasher – black or white
Over the range hood (non-vented)
Single or double bowl overmount stainless steel kitchen sink
Cultured marble molded bathroom vanity top, size per plan
34 1⁄2" high bath vanities
Aker whirlpool with jets, per plan
Mirror(s) over bath vanity
200 amp service
Front and rear GFI outside receptacles
All light fixtures, allowance - per plan
Choice of 4 phone/cable OR 3 CAT5/Coax Combo
Smoke detectors- hardwired/battery back-up (one smoke detector per floor and per bedroom)
Carbon monoxide detectors (one on each floor and in each bedroom)
Electric washer hook-up
Electric dryer hook-up with vent
Fan and light combo in all baths
Doorbell
One piece fiberglass shower/tub combo, per plan
One piece fiberglass 3', 4', 5' shower, per plan
Corner whirlpool tub with jets, per plan
14 1⁄2" Toilet(s) choice of white, biscuit or almond
PVC drain lines
Front & rear frost-free spigot
Shut off valve for all fixtures
Sump pump or daylight drain, per landPex manifold system manabloc
Washer hookup in basement, per plan
Kohler Coralais series plumbing fixtures, per plan
50 gallon electric hot water heater
R21 Exterior walls
R50 Ceilings
R38 Ceilings (Vaulted or Cathedral)
R11 Basement walls
Insulated ductwork - HVAC trunk line only

Welbilt Homes is an Energy Star builder. What this means, is a more air-tight, more energy efficient home.
Click here for more details.

Click HERE to learn more about Green Building
4 or 6 panel hollow core doors, paint ready
Baseboard – 3 1⁄4", paint ready
Wood stair railings, stain ready, per plan
Mushroom top newel posts, pine stair treads, beach handrail, pin top balusters for stairs
Doorways, windows, and closets openings cased with 2 1⁄4" Colonial trim
Door stops
Schlage hardware on all doors
Window sills
1⁄2" drywall glued and screwed
Paint ready drywall (paint packages available)
Foyer, laundry, kitchen, and baths – standard vinyl
All other rooms – standard carpet with 6lb. pad
Wide choice of kitchen and vanity cabinets.
Complete line of custom kitchen available (optional).
Self-cleaning electric range and matching ductless hood (white or black).
Dishwasher.
Upgrade appliances (optional)
Stainless steel double bowl sink.
Formica counter tops.
Solid surface countertops (optional)
Cultured marble tops on vanities.
Mirrors over vanities.
Corian, tile, or granite tops (optional)
We will do a professional cleaning at the end of construction, prior to moving in.
Cold walls not insulated
Warm walls insulated
Drywall glued and screwed
Paint ready drywall (paint packages available)
CHI insulated steel garage door(s), per plan
20 minute fire rated garage door
*** Specifications are subject to change and the builder reserves the right to alter or modify, for construction requirements or to accommodate variations in conditions. In this brochure, the floor plans and illustrations are approximate ***
BUILDER RESERVES THE RIGHT TO SUBSTITUTE MATERIALS OF EQUAL OR BETTER QUALITY AS IT'S SOLE DISCRETION.
ANY AND ALL COSTS INVOLVED IN A CHANGE OF THE BUILDING CODES ENFORCED BY THE TOWNSHIP, BOROUGH, OR OTHER GOVERNING BODY WILL BE THE RESPONSIBILITY OF THE BUYER.
COSTS MAY VARY.